So long as you avoid politics, there are some interesting things going on in the great wide world.
Sagiv-Barfi and Levy [1] led the work on a possible cancer treatment that involves injecting two immune-stimulating agents directly into solid tumors.
The bottom line is this: 87 out of 90 mice were cured — as in they had no cancers after treatment. The three that weren't did respond to a second treatment. These results are phenomenal.
Yes, humans don't always respond as well as mice, etc., etc., etc. Even with all the caveats, these results are phenomenal.
What's equally phenomenal is that the treatment does not cause the whole immune system to go into overdrive, which has caused problems, even fatalities, in some immunotherapies. It just kicks the responsible immune cells already in the tumor into recognizing the culprits. And then those T4 cells kill that cancer wherever it's found in the body.
There's no need to design proteins, culture patients' cells, or do any other fancy, expensive and customized-to-each-patient procedures.
The treatment also worked on mice genetically engineered to develop solid tumors.
It was tested only on solid cancers, not, for instance, leukemia.
Both of the immune-stimulating agents have already been used in humans, one is already an approved treatment, so the regulatory slog is likely to be less sloggy than normal.
Can't wait!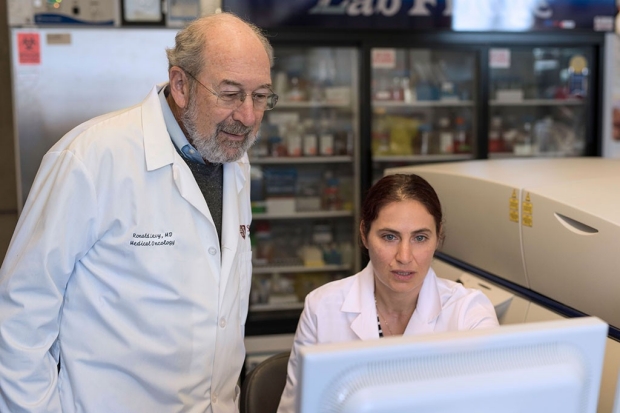 Eradication of spontaneous malignancy by local immunotherapy [2], by Idit Sagiv-Barfi, Debra K. Czerwinski, Shoshana Levy, Israt S. Alam, Aaron T. Mayer, Sanjiv S. Gambhir and Ronald Levy. Science Translational Medicine 31 Jan 2018: Vol. 10, Issue 426, eaan4488
DOI: 10.1126/scitranslmed.aan4488