First the good news. How a small Turkish city successfully absorbed half a million migrants:
Gaziantep has grown by 30% due to newcomers fleeing the crisis across the border in Syria, but remains a model of tolerance and pragmatism. …

In one 24-hour period alone, Gaziantep took in 200,000 people. To put that in perspective, Turkey's biggest city, Istanbul, with a population of 15 million, hosts 560,000 refugees in total. Gaziantep has just a 10th of the population but took in 500,000. …

Early on, the Turkish government pursued a policy of integrating the newcomers into urban areas, rather than let them fester in refugee camps. Only 4% still live in camps.

This put pressure, however, on the existing housing stock in Gaziantep, forcing up rents. Employers, meanwhile, took advantage of the sudden increase in the workforce to push down wages. There was also conflict over access to drinking water, and burgeoning resentment that the aid pouring in was going to Syrians, not to poor Turks. …

It was precisely to avoid this sort of conflict that the city adopted a new approach, based on integration.

The mayor, Fatma Sahin, established a migration management department. The idea was that Turks and migrants would receive equal treatment and benefits.

It persuaded the government to pipe in water from over 80 miles away to address the water crisis, and then set up a plan to build 50,000 new homes, as well as new hospitals and better public services. All were available to Turks and migrants alike.

"I said to them, we have to work together," Yalçin says. "We are aiming for social cohesion, because Turkish and Syrian people are going to live together here[."] …

What sets Gaziantep apart is that it didn't wait. It was quick to accept the reality that the migrants were there to stay – and the sooner integrated, the better.

"Migration has always been with us," says Yalcin. "It's not a problem to be solved but a reality you have to manage. You should see the advantages. And you need to tell people the truth: these people are not stealing your jobs, they're not stealing your houses."
(It's worth mentioning, since it may not be obvious to English-speaking readers, that Fatma is a woman's name. Margaret Thatcher and many others are evidence to the contrary, but on the whole leaders who are women seem to do a damn good and visionary job more often than not.)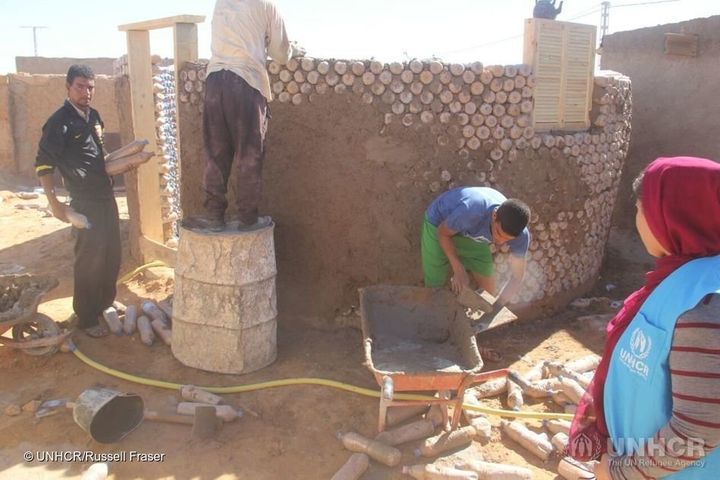 So the good news is that solutions to the plight of refugees exist.
The bad news is that most places are doing the 180° opposite.
As I've pointed out in other blogposts, Trump is not the first to try sadism to stop refugees. The Australians did it years earlier. And they've dealt with the downstream consequences that we're only imagining. The outlook is terminal.
The USA is imprisoning people it finds undesirable. Australia has already lived this nightmare
It's long been observed that any network of camps, once established, becomes worse. As Andrea Pitzer shows in her history of concentration camps, One Long Night, over and over again since the invention of concentration camps in the late 19th century, in each iteration they develop their own terrible, internal logic. Laws are circumvented or changed, secrecy inhibits scrutiny, logistical problems complicate detention such that the brunt is always borne by prisoners, and a dynamic of brutalisation sweeps up prisoner, jailer and the whole society surrounding them.

Even if such camps are not deliberately constructed for the purposes of murder, they kill people. In Australia's camps, dozens have died, a score or more at their own hands. …

Australia's camps are now baked into its national politics. They look set to remain as long as there are elections to win, focus groups to placate, and no outside agency truly capable of enforcing any consequences for its architects. The longer that they are in place in the US, Italy and elsewhere, the more likely it is that in those countries, too, they will become permanent features of the political landscape. … [emphasis mine]
The difficulty of holding a nation's most powerful people accountable is why it seems likely that the camps won't be shut down on the basis of national politics. Angela Mitropoulos, a scholar on the topic, says only a globalized opposition can succeed.
And to me, that sounds even more depressing than the fact that we're back to explaining that concentration camps are a bad idea. In a world with Xi Jinping, who puts millions of Uighurs in camps, with Putin, with The US's own flabby version of an autocrat, with elections being rigged to make Europe fall apart, with the lack of respect and funding for the UN — with all of that the chances of a useful global response seem kind of microscopic.
But then there are the Greta Thunberg's of the world. An idea catches fire and people decide they're not going to take it anymore.
I just hope maybe once we can reach that point before the full disaster strikes, not afterward as we're dragging ourselves out of the horror.
Crossposted to Widdershins
---
One Response to 'Immigration: there's good news and bad news'. Post a comment
Leave a Comment