The European Court of Human Rights has been reading my blog! Or, perhaps, it's an obvious idea if you think about it for even a minute, but that's a much less fun hypothesis. I've been saying forever that some rights have to take precedence. (Most recently here, also here, etc., etc.)
[C]opyright monopoly as such – which is ordinary law in European states – was just defined as taking a back seat to the constitutional right to share and seek culture and knowledge, as defined in the European Convention on Human Rights.
It's about time. We're getting too damn close to that scenario I saw on Vimeo.
---

It's not war if no Americans are killed.
Americans may be killed at will because it's all self-defense. There's a war on, you know.
Only a handful of decades have passed since the soaring words of the Geneva Convention. The US was pleased to think it was leading that charge at the time.
But it's all over now, Baby Blue.
---

The treehuggers turn out to be right about GMO foods, and the respectable scientists in the white lab coats were wrong.
The scientists assumed that the viruses ferrying the DNA-of-interest into cells were just doing what they were told and disappearing afterward.
Nope. What's worse, you know how it goes when you start with the wrong assumption. You never get the right answer. Garbage In, Garbage Out.
They knew that some bits stayed behind, but according to what they knew at the time, they assumed those bits couldn't do anything. The tools to make a coherent study of proteins inside cells are very recent and still very much in the process of development. Nor was it feasible to study the whole genome in a reasonable amount of time and hunt at random for virus particles left behind.
Well, now it is. After the study indicating rats developed tumors more frequently when on a diet of certain GMOs (abstract, article pdf, response to criticisms pdf), the European Food Safety Authority had a closer look at company data.
What they found (pdf of whole article) is that in addition to the expected viral particles, there was also some activity coming from viral genes. (For a bit more discussion on that, there are some notes at the end.)
So far, the only thing the EFSA study showed is that the viral genes can be active in the genetically modified plant, where they've been directly introduced. There the unwanted viral activity makes the plant sick, i.e. yellow or wilted or the like. That's a long, long, long way from making humans sick.
BUT.
But it was supposed to be impossible. Instead, it's happening. It was also supposed to be impossbile for viral particles to survive digestion. But people vary, and the health of their digestions varies. If one impossible thing — presence of active virus in plant hosts — is happening, then the next supposedly impossible thing might also happen: genetically modified DNA might retain unwanted effects all the way to the human consumer. The assumption of safety has been shot to pieces. It's time (well, way past time) to use the most sensitive protein studying tools we have to understand what's really going on in transgenic foods and in the people eating them.
Unexpectedly active bits of viral DNA can make cellular processes produce random proteins or bad proteins or dysfunctional ones. That's the sort of thing cancer cells do. Alzheimers is the result of too much protein of the wrong sort in brain cells. There's a whole string of nasty diseases whose cause is DNA gone bad.
You really, really, really don't want DNA to go bad.
The only rational alternative now is to stop selling genetically modified food until we know what we're doing. But so far nobody has done that. Far from stopping production, we're not even to know which foods could contain these viral fragments. EFSA's report was released just after the referendum in California which would have required, at least, labelling of GM food. That lost by 2.8%, 6,088,714 to 6,442,371 votes, after a massive industry-funded camplaign against it.
So, here we are. We've known since the beginning that GM foods in practice, through never in industry PR, allow poor farming practices and therefore damage the environment and human nutrition and possibly cause unwanted immune responses. That's bad, but it's the slow, steady sort of bad that's not frightening enough. Recently it's become clearer that patentability, the new power to own life itself, is a toxic corruption all by itself. And now we find out that, yes, the weird mutant DNA in the weird mutant organisms is catching, just as the treehuggers had feared. It won't make us glow in the dark, but it can do something much worse. It can make us sick to death.

Notes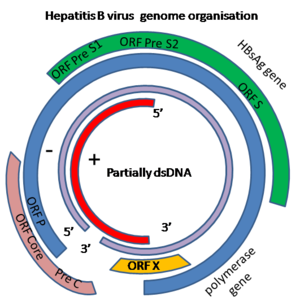 If you're wondering how the scientists could possibly stick in a bit of DNA and not know what it did, then consider that viruses have a unique trick. Depending where they start reading a given stretch of DNA, it can code for different functions. In the diagram at right, the different colored concentric genes map onto one ring of DNA, or RNA in some other viruses. The only difference is where the transcription starts. In the frankenfood case here, the viral gene the scientists wanted overlaps with a different viral gene that has multiple functions, including triggering host DNA into action. They only now realized that the "hitchhiking" viral gene in that overlap could be active. (Diagram from fullwiki.org.)

It's important to remember that when you eat genetically modified food, it's digested just like any other food. Under normal circumstances, the DNA is chopped into tiny bits that are no longer DNA, whether animal or vegetable or viral. So no matter how weird or mutant that DNA is, the DNA itself can do nothing to you. But under abnormal circumstances — for instance, if you have intestinal microbleeds due to flu — larger particles can get into the bloodstream. If a viral particle makes it all the way to a cell, it can start doing its job which is to make host DNA behave badly. Those are very rare events, but rare is not the same as impossible.

Tangentially, there's a theme in some comments that there's nothing new here. We've always known there are viral bits left behind and that the only real question is why they weren't tested for safety right from the start. But there is something new. What's new is the proof that the viral particles are active. The earlier assumption of inactivity was garbage, but it was a very strong assumption garbage so it wasn't examined. Plus, the molecular tools to examine it weren't even available early on, and later on there was a whole industry already dependent on not examining it. "It is difficult to get [people] to understand something, when [their] salary depends upon not understanding it."
This goes back to the debate about how to handle innovation. A requirement to prove absolute safety before anything can be done is equivalent to nixing all innovation. A free-for-all is equivalent to using everyone as lab rats. Both are bad.
The take-home message for me is that complete openness of all data has to be a requirement for all industries. The consumers' right to know has to be as absolute as free market theory thinks it is. Hiding behind trade secrets has got to stop. If outsiders had been able to see what was going on, even weak regulators would have had to take action years ago. That way you don't stifle all innovation, but you retain the power to shut it down when it starts looking like a bad idea.
---

From a purely tactical perspective, that is. I keep seeing reports mentioning how the fanatics will melt into the desert and be difficult to root out.
Assuming resources — and I do understand that those are not generally applied — but, assuming resources, I don't see how the Sahara could shelter them for long.
Water is limiting. Garrison every oasis for six months, and anybody hiding in the Sahara is done for. It's also the worst place on earth to hide from satellite surveillance. Few clouds, few trees. So if pickup trucks start driving to camps in suddenly larger numbers, it could be visible. Assuming anyone used their satellites to look.
I get that fanatics can hide now and have hidden in the past because it's a vast trackless area, you have to know the terrain, the regional governments don't have or don't devote the resources to it, etc., etc.
But it seems to me that right now there's an opening to get the local knowledge. The Tuaregs are mighty pissed off with everyone, especially the fanatics who stole their revolution. They're some of the most skilled desert dwellers there are. So give them Azawad, where they can run their own internal affairs, within a federated nation of Mali, where they can be part of a more viable economic unit, and give them the military data they need to wreak vengeance on the even more unsavory fundies.
If we believe in self-determination like we say we do, the first part is a worthy goal in itself. And for military effectiveness, I'd be willing to bet you couldn't beat the second part.

Update, 2012-02-07. From McClatchy: "Aklinine Ag Bogali, who spent years traversing his desert homeland in northern Mali, described some of the caves there as so large that they open onto underground lakes."
Oh.
Although it does confirm what I was saying about the local knowledge of the Touareg.
---

I was hiking yesterday and looked out to sea. This is what I saw.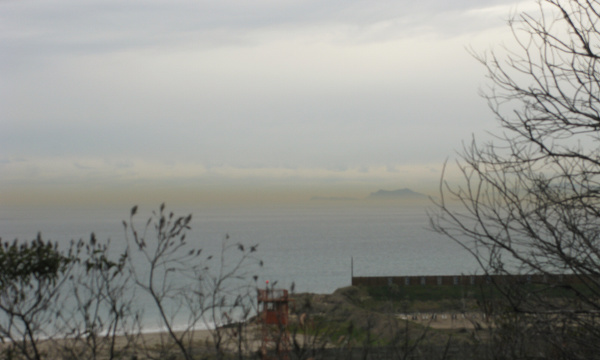 An orange-brown band of dust? smog? all of the above? stretching over the whole horizon. There's a larger composite picture here that shows more of the extent. (In the foreground, you can make out the Navy Seabees target practice range. That's Anacapa Island shrouded in the distance.)
I've lived here for years and never seen anything like it. Ordinary Los Angeles pollution looks like this:
It's more purple-colored, much fainter, and bigger toward LA, petering out toward the ocean. (The picture is from an old post where I was puzzling about wind direction.)
When I mentioned it at home, I found out that Beijing had an Airpocalypse around January 12th and the next few days, an immense pollution event that drowned the city in choking dusty smog.
NASA regularly tracks Chinese pollution across the Pacific, but it wasn't usually still as thick as soup by the time it got here.
Well, it is now. I'm fairly sure that's what I was seeing. Dirt pushed across the whole Pacific ahead of a huge storm system that also brought us rain later on. One to two weeks is how long it takes to get here from China.
This is not good.
---
When Jonathan Frieman of San Rafael, Calif., was pulled over for driving alone in the carpool lane, he argued to the officer that, actually, he did have a passenger. He waved his corporation papers at the officer, … saying that corporations are people under California law.[...]

A carpool lane is two or more persons per vehicle, he said. The definition of person in California's Vehicle Code is "natural person or corporation."
---

This is the headline of an article on CNN:
"Damon's film 'Promised Land' overlooks fracking's boon to U.S."
The boon of global climate change, I guess. The boon of flammable tap water. All that, and cheap gas.
Are we lucky, or what?
Like I said before, the only thing worse than running out of oil is not running out of oil.
---
Maybe not so much for fun, but profit? Definitely. I've written about what's really wrong with genetically modified food before, and it's not mutant monster three-eyed chickens giving you cancer.
Being a biologist, I've been complaining about biological problems.
Monsanto creating crops to withstand its own RoundUp herbicide. More herbicide = more ecological damage + less nutritious crops. And, in a win-win (for Monsanto), it gets paid for the patented crops and the patented RoundUp sloshed on the fields. (1)
The potential to cause allergies due to substances created or used anywhere in the process of production through to application of the genetically modified plant or animal. 1, 2)
The industry hiding information about problems in what's a very familiar pattern by now. (2)
But it suddenly hit me, reading this article, that the biggest danger is not irreversible biological damage. Not enough people care about irreversible biological damage.
The real problem is that
genetically altered food has been subject to intellectual property protection, and the creation of new foods has become a reliable way to ensure profit streams for whoever patented them first.
Profit streams. God help us. People would, and do, destroy their own grandchildren to get at a profit stream. We're doomed.
The only good news is that, unlike irreversible biological damage, we have total control over profit streams. Start once again enforcing the unpatentability of life, the profit stream dries up, and the problem is solved.
What are we waiting for? Permission from Monsanto?
---

Gay 'Conversion Therapy' Faces Tests in Courts.
Gay "conversion therapy," which claims to help men overcome unwanted same-sex attractions but has been widely attacked as unscientific and harmful, is facing its first tests in the courtroom.
Telling someone he can't have gay conversion therapy is not really different from telling anyone they can't have assertiveness training. You can do whatever you want with your soul, if you're not hurting anyone else. Either we can tell each other what kind of sex to have, or we can't. If not — and I would say emphatically not — then we also can't tell people to be gay or not to be gay. Their business is nobody else's business.
Now, that's at the patient end of the deal.
It's a different can of worms when someone sets themselves up to get paid for curing gayness (gaiety?). Nobody has a shred of evidence that gayness — or any other manifestation of the gender spectrum — is a disease or needs a cure or that there are any generally applicable ways to transform straights into gays or vice versa. So there are big issues of misrepresentation, false claims, lying to extract money from people, and general con artistry. That's a crime. Nothing much to test there, either. Require restitution and throw the bums in jail.
---
And businesses. And everything else. That is the inescapable implication of the following findings from:
The Mere Anticipation of an Interaction with a Woman Can Impair Men's Cognitive Performance, Nauts et al. 2012.
Recent research suggests that heterosexual men's but not heterosexual women's cognitive performance is impaired after an interaction with someone of the opposite sex Karremans et al., 2009. These findings have been interpreted in terms of the cognitive costs of trying to make a good impression during the interaction. In everyday life, people frequently engage in pseudo-interactions with women e.g., through the phone or the internet or anticipate interacting with a woman later on. The goal of the present research was to investigate if men's cognitive performance decreased in these types of situations, in which men have little to no opportunity to impress her and, moreover, have little to no information about the mate value of their interaction partner. Two studies demonstrated that men's but not women's cognitive performance declined if they were led to believe that they interacted with a woman via a computer Study 1 or even if they merely anticipated an interaction with a woman Study 2. Together, these results suggest that an actual interaction is not a necessary prerequisite for the cognitive impairment effect to occur. Moreover, these effects occur even if men do not get information about the woman's attractiveness. This latter finding is discussed in terms of error management theory.[Emphasis added.]
Men need to start hoping that biology is not destiny at least as much as feminists have always insisted it isn't.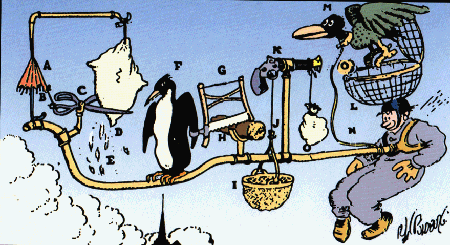 (The article by psychologists was critiqued by a computational scientist for its terminology. (No link due to complete paywall.) The authors' response is here.)
---

Now can we start refusing to be cattle instead of customers?
Instagram says it now has the right to sell your photos – CNET News:

Under the new policy, Facebook claims the perpetual right to license all public Instagram photos to companies or any other organization, including for advertising purposes, which would effectively transform the Web site into the world's largest stock photo agency. One irked Twitter user quipped that "Instagram is now the new iStockPhoto, except they won't have to pay you anything to use your images."
These services are "free" the same way the supermarket is free for the bar of soap. You're the product. Of course it's "free." The real tell showing your place in the scheme of things is that nobody is offering you a cut of the (huge) profits. If you were an actual human being, you'd have a right to part of them for your contribution.
But you have no rights. It's all subsumed under property rights. Whoever is making money has the right to trample your privacy, copyrights, free speech, and whatever else suits their bottom line.
You know what? That doesn't work and can't work because it ends in total absurdity. Some rights have to take precedence over others or they all become useless. Human rights have to come before property rights. If they don't, I could kidnap people for a slave farm and there'd be nothing they could do about it because they're my property, which is more important than anything else. And anybody else could do the same to me. There would be neither human rights nor property rights for anybody. Everything would be lost. If human rights come first, property rights are secure within their proper limited sphere.
Religion is another example. Freedom of religion must be secondary to freedom of speech, movement, and basic human rights like self defense. If it isn't, then my religion could be to kill your religion. There would be neither human rights nor freedom of religion for anybody.
As I said, getting rights in the wrong order ends in absurdity. It ends in no rights, not even the one usurping the top spot.
If we had a real government, instead of our captured kleptocracy, our rights to our own work would be clear in law, and we wouldn't have to worry about losing control to some piker holding us up at a chokepoint.
Instagram expropriating people's cat pictures seems like a picayune thing to get worked up about. But it's yet one more symptom of an inversion in the correct order of rights. They have no right to do that because money cannot cancel basic rights to your own work. There's no law against corporations making money, certainly. That's what they're there for. But not at the price of trampling more important rights. And that's not a small thing at all.
---

AP has a big, exclusive story based on a graph of a simulation leaked by they're-not-saying-who from they're-not-saying-where. This is Proof the Iranians are working on a big bad nuke.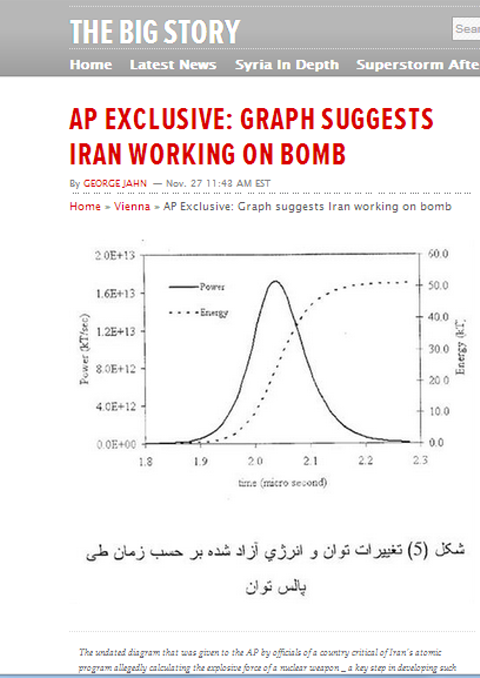 Glenn Greenwald seems to be getting exasperated at the silliness of such setups:
even if one assumes that this graph is something other than a fraud, the very idea that computer simulations constitute "evidence" that Iran is working toward a nuclear weapon is self-evidently inane.
Well, yes, there is that.
But there's one even bigger piece of evidence suggesting that the Iranians aren't doing much, and for some reason that's not being mentioned. They have a border with a huge and powerful country. (Well, a mere 200 or so miles away across Azerbaijan.) Russia has zero reason to want powerful Islamic fundamentalists right on its southern border who might encourage friction in other Central Asian majority-Islamic countries.
If the Iranians were really that close to useful nukes, you can bet your Sunday bonnet the Russians would be making noise about it and/or doing something about it.
---
Damage from Palestinian rocket in Ashdod, Israel, not far from the border with Gaza.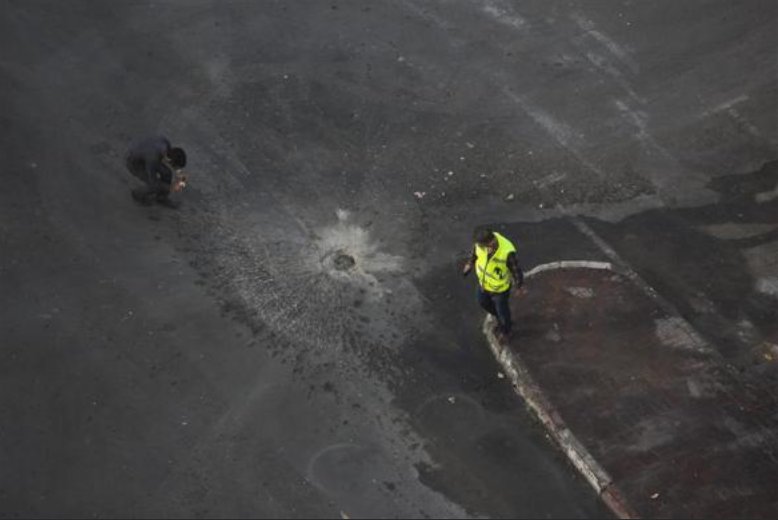 (Nir Elias, Reuters)
Damage from Israeli strike in Gaza.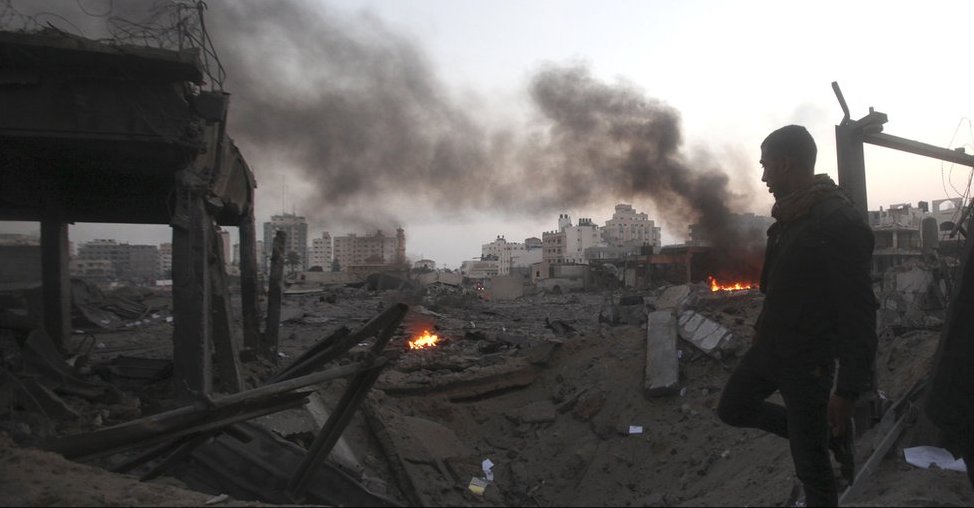 Israel, like everyone else, has a right to defend itself. Lethal force against vandalism does seem a tad excessive. (Maybe their big friends and good buddies could explain that to them? On second thought, maybe not.)
---
In some ways, Hawaii has nice problems. The LATimes wants to know whether the rapid growth of solar power there is Too much of a good thing? "[P]ower generated by homeowners … exceeded output from power plants in some areas."

Energy from the sun is the only kind which could give us more power than we know what to do with, even if we got our act together and grabbed as much as we could.
But in Hawaii's particular case, the problem is due to the fact that the utilities literally don't know what to do with it. They've been hanging onto old fossilized business models and haven't upgraded their distribution and storage facilities to handle their real business. Which should be load balancing.
We're always going to need public utilities to wheel the power to where it's needed, to store the excess, to stop spikes and surges and brownouts.
Instead of acknowledging their stupid lack of planning, what does Hawaiian Electric do? "[P]roposed a moratorium on solar installations, a plan that met with immediate outrage and was quickly withdrawn. But utilities are requiring expensive "interconnection" studies[.]"
The studies are needed to prevent surges, but the company should be the one paying since its lack of planning caused the problem. Instead, it's doing everything it can to slow down energy independence.
Happily, they haven't been as successful as they'd like. Yet, anyway.

The state has set a goal of obtaining 40% of its power from locally generated renewable sources by 2030. Already, the Big Island has jumped ahead and is producing 44% of its power from renewable sources, and it could hit 100% by the end of the decade.

Kauai announced earlier this month that it would build its third large-scale solar plant and expected to generate half the island's power by the sun soon.
Go Hawaii!
---
(Fair warning: one of those loooong posts.)

Nobody can choose to live without limits. Anybody who tries just ends up crashing into them. Eating without limits will make you too sick to eat at all. Gas guzzling without limits will end in no gas — or enough global warming to make the whole thing moot. (That's not an exclusive "or.") Too much information causes overload, not wisdom. There are always limits.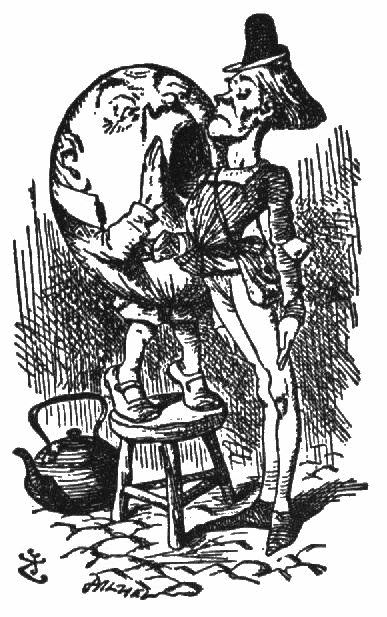 The only real choice is whether to recognize the constraints instead of crashing into them and whether to find optimal ways of working within them instead of suffering through constant crises.
In that spirit, I want to discuss the First Amendment, the right to free expression. It has limits — such as not falsely yelling "Fire!" in crowded theaters and requiring tiny dollops of truth in advertising — but somehow only the old limits are okay. Updating the limits to deal with updated technology is out of bounds. It's as if, when it comes to free speech, the most liberal among us all subscribe to a doctrine of Original Intent.
That blinkered view has worked well enough in the past because past problems were small enough to be kept at bay with small fences. Broadcasting at one time was limited by lung power, and only the immediate circle of a loudmouth had to put up with their constant blather. The change began with the printing press, sped up with radio, ran away with television, and is now screaming up the exponential part of the curve with the internet. There are more and more loudmouths to shut out. Ads. Insults. Bullying. Harassment. Grossness. Drivel. Lies. Politicians. The problem is getting so bad that more and more voices are being raised saying it's time to do something. Most people aren't sure what.
I'm not sure either, but what I am sure of is that we absolutely must get out in front of this. The only people who are sure of the solution are places like Saudi Arabia, and nobody (except the Saudi Arabian government) wants them deciding on the limits of speech.
The sorry piece of work known as "The Innocence of Muslims," better titled "The Nastiness of Christians," has led to a recent spate of shouts for censorship. One example:
In Saudi Arabia, the government demanded that Google block its citizens' access to the video. Google complied on Sept. 19; it had already done the same for Libya, Egypt, India and Indonesia. …

This Internet censorship is [in] line with the kingdom's muzzling of its national media. Overall restrictions have worsened since the Arab Spring popular revolutions of 2011. …

"Bearing in mind that countries cannot apply their own laws to acts in another country, there is a crying need for international collaboration to address 'freedom of expression,' which clearly disregards public order[.]"
Saudi Arabia is not an outlier in this case. Pakistan would like the UN and the Organization for Islamic Cooperation to start enforcing international anti-blasphemy laws. The Prime Minister of Egypt said that we all should "take the necessary measures to ensure that insulting … belief in their Prophet, that should not happen, and if it happens people should pay for what they do." Singapore's Deputy Prime Minister says the anti-Islam film must be blocked and that is not censorship, but says nothing about why it differs.
It's easy to feel sympathetic when the trigger is something as revolting as the Nastiness of Christians.
Then I read that the Turks are putting an internationally renowned pianist, Fazil Say, on trial for insulting Islam on Twitter. The "insult" was poking fun at a cleric for being in a hurry: "Say tweeted: 'Why such haste? Have you got a mistress waiting or a raki on the table?' Raki is a traditional alcoholic drink made with aniseed."
The real problem isn't even the possible 18 months in jail. It's the hassle, expense, time, and stress of dealing with the legal battle. Even if he and everyone like him were always ultimately cleared of any wrongdoing, the possibility of legal harassment would stop most people from saying anything, just in case.
The West is not immune to calls for some kind of action. In Britain, a new Public Order Act (it's interesting how these things always seem to be justified by "order") — has made "insults" illegal.

Section 5 of the Act … outlaws threatening, abusive and insulting words or behaviour….

What constitutes "insulting" is not clear. It has resulted in a string of controversial arrests.

They include a 16-year-old boy being held for peacefully holding a placard reading "Scientology is a dangerous cult"….
These and similar flailings toward a solution prompted Jonathan Turley to write,

The very right that laid the foundation for Western civilization is increasingly viewed as a nuisance, if not a threat. Whether speech is deemed i[n]flammatory or hateful or discriminatory or simply false, society is denying speech rights in the name of tolerance, enforcing mutual respect through categorical censorship.

As in a troubled marriage, the West seems to be falling out of love with free speech. Unable to divorce ourselves from this defining right, we take refuge instead in an awkward and forced silence.
Turley doesn't actually say so in that piece, but I get the impression also from his other writing that he feels there is no way to stop the bad without also destroying the good. In general, the majority response to calls for limiting free speech is that any limits, beyond the old ones we're used to, will put us on a slippery slope to losing the vital right entirely.
I don't see that. If the old limits on free expression enhance the right for everyone, and they do, then new limits applied in the same spirit won't end in censorship either.
The vital point about the old limits that work is they are based on balancing other rights with the First Amendment. There's no right to cheat people out of money. Stealing by using words is still stealing, which is clear to everyone on an individual basis when con artists try it. It's no less true when it's broadcast as advertising, and hence we have (minimal) truth-in-advertising laws. Those aren't based on censorship. They're not favoring a message. They're recognizing that the expression involved is not being used to communicate, but as a tool of burglary.
The same goes for false shouts of "Fire!" in crowded theaters. The intention of the speech in question is not communication but a specific, and potentially dangerous, effect. People are terrified for nothing except somebody's sick idea of a joke, and could even get trampled and hurt because of it. Again, it's not censorship because what is being suppressed is not one message as opposed to another, but the use of any words purely as a tool to harm people.

Those examples point up the difference between a rights-based approach and censorship. Censorship favors some messages by suppressing others, whereas rights must be equally applicable to everyone. Any inequality favoring some over others is a privilege, not a right. In a rule-based system, everyone can apply the rule and the results are the same no matter who does it. It is a government of laws, not of "men," to use the old phrase.
Censorship cannot be applied by everyone equally, and that's why it cannot be a valid tool to serve free speech. As it's commonly understood, it refers to some authority, usually governmental, deciding what can be said and what cannot. It is asymmetrical by its very nature. Only a few people can decide what's acceptable, If everybody did it, the whole system would break down instantly.
I suspect it's that sense of asymmetry that makes so many thoughtful people adamantly opposed to any new rules regarding free speech. Turley, for instance, in the piece quoted above, mentions the pitfalls of the government deciding what people can and cannot say. I would add that it's not much better when any other institution does it. A rule-based system that applies to everyone equally can't allow any subset of people to make those decisions, whether it's the movie industry, the recording industry, the search engine industry, or even the association of university professors.
We have several types of censorship already operating now. The music and movie industries enforce warrantless takedown notices against content they don't like. Search engines refuse to be transparent about criteria and thus effectively censor lowranked results. Companies control app stores with a significant user base and decide without transparency or right of appeal what those users can see. There's not much worry about these new forms of censorship because it's not The Government doing them and because profit is assumed to take precedence over free speech. (Nobody agrees with that last when it's stated plainly, but it is how people behave. "It's their app store. You don't like it, go somewhere else.") Even though we're not worrying about private censorship, it's still censorship.
The practical implications of real free speech rights mean that the likes of Google must be globally regulated to make their rules for selection of information known to all. They mean that copyright law can't be used in the service of industry business models. They mean that trade treaties, which should have no impact on basic rights, cannot have an impact on basic rights. Right now, for instance, the Trans-Pacific Partnership is being negotiated in secret. On the basis of leaks, "The ACLU claims that the copyright provisions in the TPP are 'the biggest threat to free speech you've never heard of.'"
While we're worrying about government censorship, other forms of suppression are compromising our rights as we speak. That's another reason why new rules to limit and protect freedom of speech are essential. What is and is not acceptable in the public square has to be explicit and must apply equally. An open legal system accessible to all is another foundational principle of Western civilization, together with freedom of expression. By ignoring that, and by refusing to even think about new explicit limits made necessary by modern technology, even censorship is starting to look good. Refusal to contemplate constraints, for fear of losing the right to free expression, is itself destroying the right. That is foolish.
The first step in dealing with any problem is to acknowledge that it exists. And it does. Cyberbullying has poisoned countless children's lives. Certainly, non-electronic bullying has, too, but that doesn't make the electronic version less damaging. Creepshots are just one of many internet phenomena that make living while female a punishable offence. Tracking has become so pervasive and entrenched it's becoming hard to imagine any response other than pretending it doesn't matter. Levels of disrespect for the dead that would be unacceptable on a battlefield, let alone outside it, are being justified in the name of free speech. One of the laws of war, at least as old as the Old Testament, is that opposing sides must let each other bury their dead in peace. The list could go on and on and on. Many people see a problem. It's not limited to tetchy Muslims.
That millions, even billions, of people feel abused by free speech suggests there is some deficiency in our interpretation of it. It's especially likely given that the unhappy people are as different as atheist feminists and religious fundamentalists. It's also possible they're all wrong, but the size and diversity of the group who feels harm means it makes sense to examine the merits before deciding that the current status quo is the only possible one.

The symptoms of unhappiness all trace back to the same larger problem: that time and space are no longer enough to filter out the loudmouths among us. Technology, by taking away some limits, as it has also for instance by enabling birth control or environmental impacts, makes us bump up against limits in our own understanding and behavior.
However, although there's a common element to the causes, the resulting harm can be very different. Annoyance at a spammer is not the same as the violation caused by creepshots or the real world consequences of voters fooled about climate disruption or the totalitarian potential of minute knowledge about every detail of everyone's life. Expression may be the problem, but the answer may or may not be silence. I'll try to lay out some of the separate strands.
Freedom of speech has so far been asymmetrical. Freedom of motion, for instance, doesn't give you the right to walk into someone. But freedom of speech is missing its matching right, the right not to hear.
The inability to refuse to hear is at the root of many emerging problems: telemarketers who used to call during dinner (in the days when people still sat down to eat dinner), spammers, demands to censor sex "for the sake of the children," and demands to censor all religiously objectionable expressions everywhere. That last, in particular, makes me think of the story about the king who wanted his land paved in leather because it was nicer on the feet, until a sage pointed out he could wear shoes instead. Then there is the increasing problem of offensive messages. They're not a problem for the originator, who doesn't find them offensive, but for the subject, who does. The offended people may not even be the target audience — usually they aren't — but that doesn't lessen the offense for them. Here again, the missing right is being able to avoid those messages. Mass media have started to take baby steps toward giving people some control by flagging particularly gory news images before the reader sees them. But we need vastly expanded abilities to control how much and how badly the rest of the world can step on our toes. Judicious tagging that coordinates with filters could go a long way toward removing sexism, violence for entertainment, impiety, religiosity, or whatever other criteria the user wants. Yes, that would require the creators to help people avoid their content. If there was the same level of respect for the right not to hear as there is for free speech, there's no reason why people of good will would not cooperate. And, as with free speech, there are remedies in law for those who violate rights. Note the important point that the user decides what to filter. Since it's the user who has the problem, the user should control the solution.
I realize this whole zone of offensiveness is rife with contradictions, over-reach, and over-reaction. I realize I'm suggesting something like parental controls on steroids with the one enormous difference that it is under the control of the user. The difficulties of limiting offensiveness don't change the fact that we need some replacement for the old rules of politeness which kept people from being rude to each other's faces. Those rules were there to reduce the murder rate. They are necessary. I don't know the best ways of implementing a right not to hear. What I'm saying is that we need to explicitly acknowledge the existence of that right, and that it is not enough to give up simply because the solution isn't obvious.
To the extent that effective countermeasures against offensiveness have already been taken, they're generally the wrong ones. The rules against offense in private life emphatically do not extend to politics. Expressing political opinions on political occasions is just about the whole point of free speech. Yet the only real limit on "offensiveness" seen recently has been on the expression of political opinions that inconvenience the powers-that-be during political events.
Security at George Bush's events in the mid-2000s became notorious for removing any visible dissent. Even wearing the wrong t-shirt was enough to be expelled. Political t-shirts might be inappropriate at a summer picnic, but they cannot be inappropriate at a political speech. It's also become customary to contain protests at political events in very small free speech zones. The justification, as always, is order.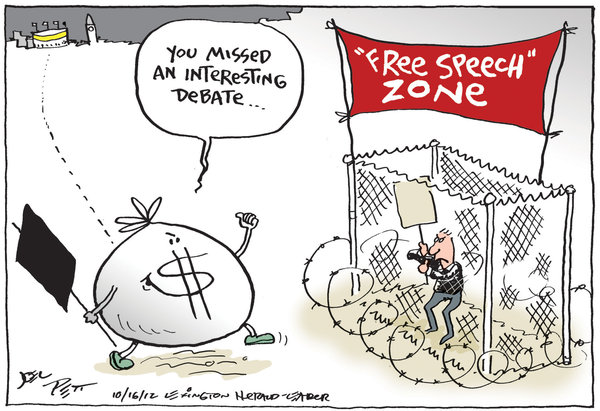 In a praiseworthy attempt to avoid the travesty of little "free speech" pens, the Supreme Court recently fell into the other error: removing all limits from offensiveness. The case involved anti-gay fanatics who disrupt funerals to insult the dead person being honored. The Supremes held that the fanatics had a right to express their opinion, which they do, and that they therefore had a right to express it anywhere. They don't, not at funerals. (I know that officially the justification is that they had a right to use the public sidewalk for their demonstration, but that's nonsense. If it was about the sidewalk, they could use any other sidewalk they wanted. They wanted to use the one that interfered with the funeral.)
It is not essential to the preservation of free speech rights that people be allowed to express absolutely all opinions absolutely anywhere in any way they please. Congress wouldn't tolerate a rock concert on the floor of the House during a debate. There are other places to hold rock concerts. A kindergarten class doesn't need to take place in church during Sunday service. Demanding silence for a tea ceremony would be stupid in the stadium during a football game.
It actually seems rather easy to come up with a rule of thumb that both preserves free speech and appropriate behavior. Limits on expressing opinions should be the rarity, not the rule, and should require valid justification. When there is justification, small spaces can be preserved as islands of controlled speech. Outside of them, control violates free speech rights. Free speech pens are unacceptable because they invert the proper size relationships and, when in a political context, because they also limit political statements at political events. Nonviolent political speech at political events can never be inappropriate. It might be disruptive, but disruptive is not the same as inappropriate in politics.
Offensive speech shades into hate speech. There is no absolute line between the two, but there is a difference. Offensiveness is a by-product of some other goal. The content is not produced in order to offend. When it is, then it becomes hate speech. The difference lies in the intent of the speaker, and when there's an intention to be hurtful, then it's run over the line into hate speech.
The recent revoltingness with the Innocence of Muslims / Nastiness of Christians is a good case in point. It is unquestionably offensive. What makes it hate speech is the fact that when it did not generate enough attention, they paid for a translation into Arabic. They wanted to be sure that as many Muslims were insulted by it as possible. That is hate speech.
It may be necessary to point out that the motive for wanting to hurt people doesn't matter. It's the harm that matters. Profit, for instance, is not a better excuse than hatred. Producing, posting, or linking to hateful garbage because it brings in clicks and revenue is still hate speech.
Hate speech is not about ideas, not even primitive ones. It's about using expression to do harm. That is the vital point to remember because it clarifies why hate speech has no business finding protection under the First Amendment. It's intention is harm, not communication. It is using speech as a weapon and the words or images are just ammunition. That's a fundamentally different category than anything covered by free speech protections. The First Amendment protects expressions, not weapons. Just because hate speech uses expression to cause harm doesn't change that. It only camouflages it.
That's just as true for private hate speech as public because one's right not to be harmed by others doesn't depend on quantity. Robbery doesn't have to be a group activity to be illegal. Cyberbullying, for instance, is a subset of hate speech that can be private. It's the use of speech as a tool of harm.
It's probably also worth pointing out that private speech generally, when it's not hate speech, should be as unregulated as it is now. Nobody wants a world where you can't yell at your own TV. There again, though, the essential difference is that nobody is trying to harm another person when shouting at TVs, whereas in hate speech, they are.
As with any other activity whose purpose is to harm others, society's response has to be to prevent it, or failing that to shut it down and to punish it. Hate speech is one case where silencing is not only justified, it is the only valid response.
Does that mean I'm advocating censorship? I say no because I think it is useful to distinguish between favoring some communications over others (censorship) and stopping harm to fellow citizens. Those two are not the same, and that should be recognized by using different terms. Maybe we could call it hate speech disarmament.
If the suppression of hate speech is to differ from censorship, then it must be based on rules equally applicable to everyone. Its distinguishing feature is an insistence on humiliating and otherwise harming its targets. Detecting intention always requires judgment calls, but that's not something new for the legal system. The complexity of determining hateful intent is not that different from estimating intent generally. It's difficult, but not always impossible. In gray areas, the accused gets the benefit of the doubt, as usual, but when it is possible to make a determination, then the hate speech involved should be shut down.
Another rule that could be applied without discrimination is a prohibition against all suggestions of violence. Criticism of governments, businesses, individuals, ethnic groups, religions, of anything at all, never requires advocating physical harm to people. I realize that if that rule was applied strictly, it would silence a majority of comments on the web. For me, the price of having to find new insults is worth the benefit of more easily distinguishing hate speech. If we're serious about silencing hate speech then any speech which is indistinguishable from it except in the stated intent of the speaker has to be silenced, too. Claiming it's just an expression or a joke or a mistake isn't good enough because the same claim is made by anyone caught being hateful.
The distinctions between hate and harmless but offensive speech isn't easy, but it's something that needs attention before all the people infuriated by hatred sabotage free speech itself. To say that people (usually other people) should suffer hate speech because it's too difficult to come up with a solution is an excuse, not an answer.
Privacy is yet another area where actions justified under First Amendment rights sometimes trespass. First, let me define terms. I think there's a fundamental misunderstanding about the concept of privacy. It's assumed to be about specific types of information, and which are acceptable to publicize. There are some quite exhaustive studies discussing where to draw the line. Whether insurance companies can share certain types of medical information with employers, whether it's acceptable for robots to read emails and use that information, who can publish your address and where, whether publishing people's faces or car license plates on Google Streetview is okay, and so on. They miss the point.
Privacy is about control of one's own information. If you and I are both on Facebook and you want your contacts to know you're now the proud owner of an iphone, then you won't feel a loss of privacy when Facebook's Beacon publishes that fact. I, on the other hand, might live in the sort of neighborhood where I don't want word leaking out that I have eminently resaleable electronics. Same data, different priorities, and different reasons for those priorities. So long as what we each care about stays private, neither you nor I feel there's any harm done. It's the control that matters.
If privacy is about control rather than specific information, then the right response to violations of it is to give that control back to the person from whom it was taken. The balance is not between free speech and censorship. It's between free speech and privacy.
(I realize there are technical issues with getting rid of data once published, but I'm just trying to discuss the rights involved. Once those are clear, then we could go about figuring out which technical issues need enforcement and how to go about it.)
Tracking for marketing purposes is one near-universal invasion of privacy. It's taking information about you and using it without your permission. If tracking respected the right to privacy, it would have to be opt-in and never opt-out, always and everywhere. Furthermore, when there's a right to control your own information, the permission would be revocable at any time. As with opt-in advertising, just imagine that world for a moment.
There's a tangent about privacy that perhaps needs to be explicit. Privacy rights may not be in the Magna Carta or the US Constitution, but that's only because, once again, technology has removed limits that protected us from our own bad behavior. As I've said elsewhere:
[C]ontrol over one's own information is necessary if other rights are to have any meaning. The only reason that hasn't always been obvious is that we haven't had the technical capability to spy on each other 24/7, or to retain every whisper forever. When anyone on the internet — including, for instance, your boss — can look over your shoulder and examine where you live, which plants grow in your window boxes, which gym you visit, who you have sex with, and how you looked in your baby pictures, there will effectively be no freedom left. Everything will have to be hidden if everyone can see it. What you can say will depend on what others approve of being said. Where you can go will depend on where others approve of you going. Old-fashioned police states, which depended on limited little human informants to keep people in line, will come to seem like desirable places with a few minor constraints. The logical conclusion of no privacy rights is no [meaningful] freedom of speech, movement, or assembly.
"Free speech" violations of privacy can be much worse than supposedly trivial tracking. The internet phenomenon of creepshots is another invasion of privacy, among many examples of pornographic violation on the web. Few things could be more private than sexual photos of oneself, and they fall unequivocally under a right to privacy. There's nothing wrong with sexual photos when they're under the control of the individual involved. They're very wrong otherwise. Sexual humiliation using free speech as an excuse is not merely rude, unfortunate, gross, obscene, or annoying. It's a violation of the fundamental right to privacy. Violations of rights are crimes, not minor annoyances.
+ + +

I started with the goal of examining free speech rights given modern technology and have ended with a world we don't live in. One where we have real privacy rights, even when it bothers Google's bottom line. One where content providers have to make it easy for people to avoid their content. One where hate speech is not a joke. It's hard to feel such a state could be more than a (fever) dream precisely because it is so alien.
The rights being ignored for the sake of free speech vary from the clearly recognized one of not suffering physical threats to the more recently recognized right to privacy and to the still-unrecognized right to silence. Solutions have to vary, too, if they're to deal with the actual cause. It's not a simple matter of being for free speech and against censorship.
A rights-based system has a characteristic that may be worth mentioning as an aid to differentiating it from not-as-good substitutes. Equality implies that maximum control compatible with equal treatment of others must always be vested in the individual. Individuals decide what to say, what not to hear, what to keep private, what to broadcast. Equality also cannot coexist with censorship, even in good causes such as public order or profit.
The government does have a role in free speech. It's the same one it has now. Rules, including those formal ones called laws, need enforcement, which is a function of government. But state powers do not decide what the rules are. When the goal is rights rather than privileges, what's acceptable is what works when everyone does it. What's not acceptable is what doesn't work when everyone does it. The rules, not any person or group of people, define some behaviors as allowable and others as not.
The hard part is fine-tuning those rules so they get better and better at hitting the target — preventing free speech from encroaching on other rights — without opening the door to prosecuting pianists and peaceful demonstrators.
Difficult as the hard part is, and it is ferociously difficult, we can't go on pretending that the problems of free speech can be solved with more free speech. We're going to have to do something about the way it damages other rights or we'll lose free expression itself. No democracy could survive that loss. It's not an optional quest.


Update: Every time I think I have the last paragraph written, yet another news item comes along as an example of what I'm trying to say: 19 year-old jailed for overstepping the bounds of good taste.

Everyone agrees that his "jokes" making fun of two kidnapped girls crossed the line. Matthew Woods swiftly became an object of contempt after he posted the crude and offensive comments on his Facebook page.

But did he deserve to be locked up for them?

A judge thought so, and ordered the 19-year-old to spend 12 weeks in jail, essentially for overstepping the bounds of good taste.
With a right not to hear and adequate filters, the doofus could be crude without going to jail and the rest of us wouldn't have to pollute our minds with his garbage. We really need that right recognized.

Angry responses streamed in almost immediately after he pressed the "send" button. Public vitriol escalated to the point that a mob of about 50 people reportedly gathered outside Woods' house, causing police to take him into custody for his own safety.
As I said, the old rules against offensiveness were there to reduce the murder rate.
---
---