It's true of the pill. If that's not obvious to you, you're not paying attention. Or you have an agenda. One that does not include making the lives of girls healthier and easier. That's been made clear by loads of people. Just one example, Violet at Reclusive Leftist in several posts.
What I want to add is: REMEMBER IN NOVEMBER!
Do not vote for the Current Occupant. Do not vote for him, no matter what. Do not enable your own abuse.
Seriously.
Obama does the classic abuse crap. Slam! Oh, quit yer snivelling. Where ya gonna go? (A bit of time goes by.) Gee, honey, I'll do better, just give me one more vote. Slam! (Rinse and repeat.)
For those of us favored enough to be safe from direct hits, the line is "The other guy will beat the kids up even worse."
Do you know what that's called? Extortion.
When it happens to someone else, we're all super-clear that the victim should leave. Get the hell out. Stop putting up with it. GO!
But when it happens to us, suddenly we're the ones on the floor with a broken jaw saying to ourselves, "God help me, if I leave, what'll happen to us? What'll I do? Somebody else'll beat us up even worse."
Never again pretend you don't know how abuse victims feel.
And for yourselves: Get the hell out. Stop putting up with it. GO!
Do not vote for Obama in November. It doesn't matter who the Republicans run. It doesn't matter if one of them becomes President for four years. The only thing that matters right now is not being part of your own destruction.
Get it through your heads that you will not be bullied, and you will not be held hostage, and you will not knuckle under to extortion.
Do not buy the story that you have no choice. Vote for somebody else, anybody else. Or nobody. Follow Plan B and get rid of the lying, two-faced, pandering toady.
Update: I wrote a post pointing it out back when, but BAR puts it more clearly: Obama: the lesser evil or the more effective evil?
But the most lucid summary of all is Vastleft's: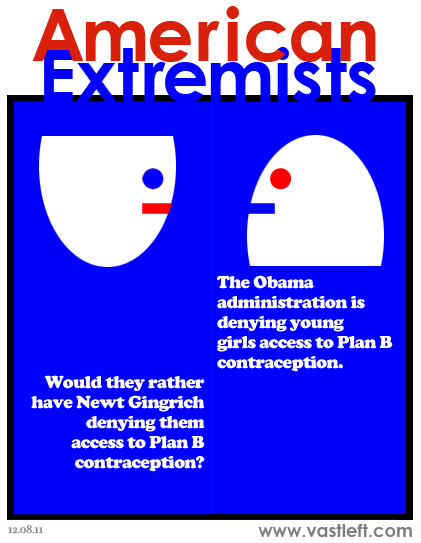 ---