I'm watching Old Orange, aka 45, as we're all in this train plunging off this cliff together, and occupying myself by wondering, in a detached sort of way, how he's going to handle this.
Not the crashing train of state, of course. It's obvious what he's doing about that. Nothing. Except for any grifting he and his Trumpists can accomplish before we find out where the bottom is.
I mean, how is he going to handle the fact that for apparently the very first time in his life he has to have evidence for what he says. And for the very first time, apparently, people think he shouldn't be promising things unless he's going to do them.
He's spent his life throwing bizarre insults in order to play to his audience. He's a Chatbot. What else would you expect? But suddenly when he says something idiotic for his base, such as that awful Obama wiretapping him, people start demanding evidence. What's next? At this rate, they'll soon be insisting on subject-verb agreement.
Then there's the other big flap: the health care plan. It's all the polar opposite of what he "promised."
That's a fundamental misunderstanding of the man. He's never promised anything in his life, not in the usual meaning of the word. He says whatever he thinks might get you to sign on the dotted line, what he calls "The Deal," and then after that he gets to do what he wants. "Come up and sue me some time" is his general idea.
And now, suddenly, the meddlesome proles are acting like he's under some sort of obligation? To them? For having said something to get their votes? Crazy. He got their votes. They're irrelevant now. You'd think that would be obvious even to proles.
So what's he going to do when he has to answer for his words for the first time in his life?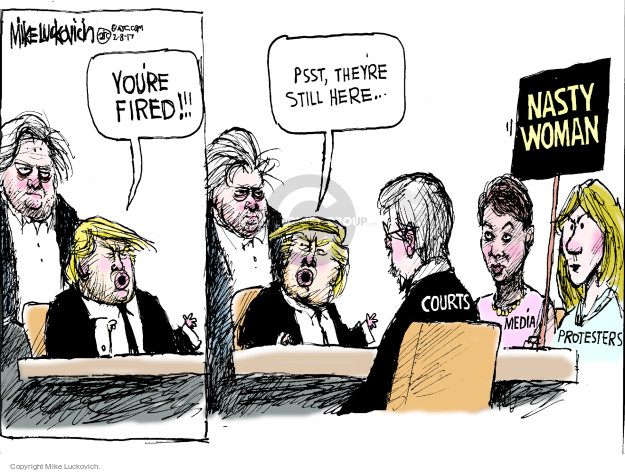 ---
Leave a Comment